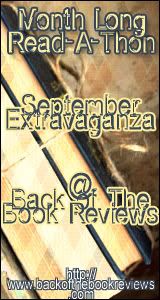 So I'm participating in the Month Long Read-a-Thon (click button for more into) and decided that I will update once daily. Since this is a month long event I won't track time read, just books and pages. My aim for September is 20 books total! Let's see if I reach it!
The "thon" started yesterday but I didn't get much reading in, so I will start today.
My daily statuses will usually be short, just to keep track per day of what I've accomplished!
Status Update #1
Books Read: Mile 81-Stephen King (ebook)-51 pages, Love Lies Bleeding-Jess McConkey(ARC)-60 pages
Pages Read: 111 pages
Total for the Month: 1 Book, 111 pages
Daily Thoughts: I spent a good chunk of today getting my reviews scheduled and caught up. I'll have much more time to read tomorrow.