About the Book:
Claire Randall is leading a double life. She has a husband in one century, and a lover in another…
In 1945, Claire Randall, a former combat nurse, is back from the war and reunited with her husband on a second honeymoon–when she innocently touches a boulder in one of the ancient stone circles that dot the British Isles. Suddenly she is a Sassenach—an "outlander"—in a Scotland torn by war and raiding border clans in the year of our Lord…1743.
Hurled back in time by forces she cannot understand, Claire's destiny in soon inextricably intertwined with Clan MacKenzie and the forbidden Castle Leoch. She is catapulted without warning into the intrigues of lairds and spies that may threaten her life …and shatter her heart. For here, James Fraser, a gallant young Scots warrior, shows her a passion so fierce and a love so absolute that Claire becomes a woman torn between fidelity and desire…and between two vastly different men in two irreconcilable lives.
About Diana Gabaldon: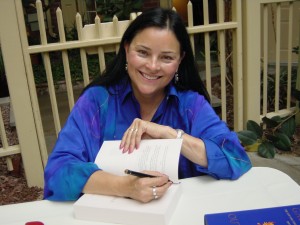 Diana Gabaldon is the author of the award-winning, #1 NYT-bestselling OUTLANDER novels, described by Salon magazine as "the smartest historical sci-fi adventure-romance story ever written by a science Ph.D. with a background in scripting "Scrooge McDuck" comics."
The adventure began in 1991 with the classic OUTLANDER ("historical fiction with a Moebius twist"), has continued through six more New York Times-bestselling novels–DRAGONFLY IN AMBER, VOYAGER, DRUMS OF AUTUMN, THE FIERY CROSS, A BREATH OF SNOW AND ASHES, and AN ECHO IN THE BONE, with nineteen million copies in print worldwide
The series is published in 26 countries and 23 languages, and includes a nonfiction (well, relatively) companion volume, THE OUTLANDISH COMPANION, which provides details on the settings, background, characters, research, and writing of the novels. Gabaldon (it's pronounced "GAA-bull-dohn"—rhymes with "stone") has also written several books in a sub-series featuring Lord John Grey (a major minor character from the main series): LORD JOHN AND THE PRIVATE MATTER, LORD JOHN AND THE BROTHERHOOD OF THE BLADE, and LORD JOHN AND THE HAND OF DEVILS. Another Lord John book, LORD JOHN AND THE SCOTTISH PRISONER, will probably be published in 2011).
She and her husband, Douglas Watkins, have three adult children and live mostly in Scottsdale, Arizona.
My Review:
Good grief! This book! *sigh* This is a MASSIVE book! It's huge! I have to admit to being a bit apprehensive at cracking it open. I had thought about it in the past but never did finish. I am SO Glad I was giving the opportunity this time! This book is amazing! It's complicated, romantic, and actiony. It's got sci fi, romantic, fantasy and a dash of historical fiction thrown in. This book has multiple personalties, but I like it!
I liked the main characters. Claire especially. I thought she was a pretty tough chick and I enjoy reading about how she handles herself in some seriously screwed up situations. I mean really, I would go insane if I just blinked and time went wacko on me! I like how she just kind of went with it and still maintained her sanity.
I definitely have to give major applause to Diana Gabaldon for writing this one. I am amazed at how well this worked! The characters are all wonderfully written, the settings, and also all the yummy things that combine to make this a good story, are all EXCELLENTLY done! This book shouldn't rock as hard as it does, but I love it. I am definitely a fan now!
Blog Tour Schedule:
Tuesday, March 8th
Book reviewed at Books, Bags & Bon Jovi
Book reviewed at Sharon's Garden of Book Reviews
Wednesday, March 9th
Book reviewed at CelticLady's Reviews
Thursday, March 10th
Book spotlighted at Outlandish Dreaming
Friday, March 11th
Book reviewed and giveaway at A Cozy Reader's Corner Reviews